Halcyon Shetland Sheepdogs
News & Updates


As we go into the new year, we realize we don't have many things to update!
Until we have some interesting news, we are posting photos of some things that occupy our time around here.
We are at an elevation of 7,000 feet here,
so our outdoor seasons can be short.

This year we installed a new training barn
...and we are putting it to good use!
We acquired a little runabout cart for chores on the property.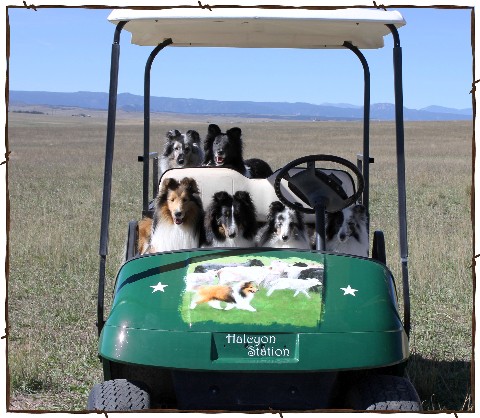 Of course we had to give it a sheltie theme!
We put a wrap on the cart with Journey's calendar photo! The dogs are ready to ride!



This spring we had generous rainfall making the grass green and lush.

We used the Shetland Sheep to mow and fertilize our agility training field! Our LGD, Belle, is keeping track of her lambs.

The Shetland Sheep were sheared in April. We have a bounty of beautiful fleeces available for handspinning!

Jim has retired from his years as a high school guidance counselor.
He seems to work even more hours now as a retiree!

Each summer we host various breed clubs at Halcyon Station. They make a fun outing of the day, and Jim performs herding instinct tests on their dogs. Jim also gives herding lessons two days per week. Pikes Peak Herding Assn holds several herding trials at this location each year.

Jim keeps many of the local agility dogs in top shape for competition with his Canine Performance Massage business.

2008 ASSA National Specialty
Herding Trial Winners

2004 ASSA National Specialty
Herding Trial Winners

Lyra earned High in Trial-Ducks!
Hope was Reserve High in Trial-Sheep!

Reno went High in Trial-Ducks!
Enya was Reserve High in Trial-Sheep!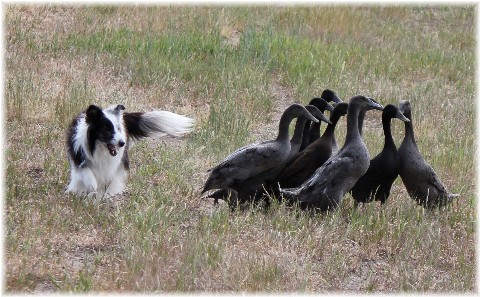 FLASH!!!
LYRA finishes her HERDING CHAMPIONSHIP at the August Pikes Peak Herding Assn Trials!!!

MACHS at Halcyon

J.Morgan was the third dog of any breed to earn a MACH in Colorado.
In Shelties, Morgan was the second breed Champion ever to earn a MACH.

With all of our other activities, we haven't had much time to train in obedience lately.
Below are a couple of our most recent obedience photos.

Like everything else she has tried, Morgan has a love for obedience. She always gives it her all. She finished her CDX with placements on all legs.

Reno was a delight to train in obedience...very attentive and willing to please. He placed on all three UD legs.
Who Says You Can't Do It All?