Halcyon Shetland Sheepdogs
Shooting Stars!
Our passion is training and competing with our wonderful Shelties!
We are currently competing in agility, herding, and conformation with the first four dogs below.
| MACH2 Halcyon High Hopes, (pts) HSAs HXAd VT | MACH Halcyon Kula Nita Rose, (pts) HXAs |
| --- | --- |
| | |
| Hope is working on her Herding Championship with Jim. At the same time, she is working toward another MACH with Susie | Rosie is our beautiful Jett granddaughter! You will find her right next to Jim at both agility trials and herding trials. |
GCH CH Coastal Halcyon Lighten Up,
RA HSAds MX MXJ VCX

Lacewood Yvoire, (pts) RN HIAd MX MXJ VCX

Journey is our supertalented young boy. He competes with Jim in herding and agility. Journey also makes select appearances into Best of Breed competition in conformation.

Yvoire is breathtaking in agility. She is still just a baby dog, so she and Susie are working on their foundation skills and teamwork.

Ch Shadypines Avalanche x
Skyward Climb Every Mountain, HIAd HSAs MXMXJ ROM-P
MEX Halcyon Cochise Blue Feather, MX MXJ
Halcyon Skyva Columbine, RE OAP AJP

Red Johnson races through the courses
with Cochise in AKC, NADAC,
& DOCNA agility trials.

Cimbee is blessed to be in the loving home
of Connie & Carleta Yarian. Connie competes
with Cimbee in both agility and rally trials.
HC MACH4 PACH2 Halcyon Reach For The Stars,
HXAd HIAs STDs

Molly

Lyra recently retired from the agility rings at almost 11 years old...still winning her classes! She is currently training in Rally while working towards her Herding Championship with Susie. FLASH...Lyra finishes her HC at the PPHA August herding trials!!!

Molly relaxing with her best friend
at the Edmonds' home.

CH Aberdale Halcyon Windwalker,
HXAs HIAd HSBs HRDII AX AXJ VCX
MACH3 Halcyon Paint the Sky,
(ptd) HSAs RN VT

Now retired, Jett was an exciting partner for Jim. Never one to hold back, Jett always gave 100 percent! When he qualified, he won his classes by a huge margin!

Enya was Jim's agility partner & cuddly lap dog for many years. They had a beautiful bond that came through loud and clear in their competitions together.
CH Aberdale Halcyon Windwalker, HIAsd HSBs AX AXJ VT VCX x
MACH3 Halcyon Paint The Sky (ptd), HSAs RN VT
Halcyon Chyna Chime A Mtn Song, AX OAJ
Halcyon Jumpin' A Jig, PT AX AXJ NF RN

Pretty little Chyna zooms through the agility
courses expertly steered by Red Johnson

While under co-ownership, Irish was trained and shown
to her PT by Jim. Lisa Hapgood now competes with
Irish in agility and rally.
Halcyon Baileys Irish Creme, OA OAJ NF
Halcyon Pax Deorum Thru Trials, AX AXJ NF

Bailey lives with the Hapgoods in Highlands Ranch, CO.

Pax is a Texas boy. He is being trained for agility
by Darlene Winters who recently finished a
MACH on his Uncle Blue.

A/C Ch Krentel Aberdale Silversmith, ROMC x
Aynsworth Black Pearl
MACH2 Halcyon High Hopes (pts),
HXAd HSAs VT

Halcyon Most Wanted, PT 0A AXJ

Our beautiful puppies, Hope (above) and Mercy (right) are shown with their best friend and agility trainer, Antalya Berger of Switzerland!

We were fortunate to have Antalya with us for a year. She trained and handled Hope and Mercy to their beginning agility titles and enhanced our lives in so many ways!
Livin' the good life!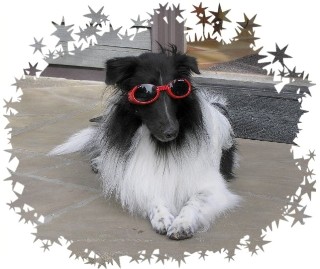 Mr. Cool J is the entertainment headliner in
Jim & Cindy Sink's home in beautiful Ridgway, Colorado

MACH2 Halcyon Marfray Just in Time (mjr pts), HSAs VTX VCX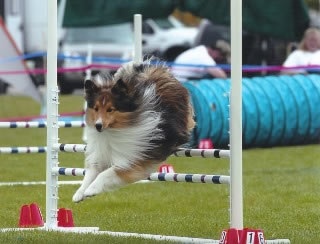 Justin is another Halcyon bred Champion (MACH)+VCX dog...and he is breeder/owner trained and handled to ALL of his titles! A few of his talented kids are shown below:
MACH3 Kenosha

(Justin x Kizzy)

MACH2 PACH Akira

(Justin x Kizzy)

Kenosha is a Justin daughter, bred, owned, trained and handled by Helen Peiker. Kenosha is competing in the Excellent classes...and is faster than blue blazes!

Akira, littermate to Kenosha, lives with Lorren Lewis and Janet Gradwell-Lewis. Janet recently finished a MACH on this cute as a button, fast agility girl. This pair also does therapy work, and the photogenic Akira regularly appears on the therapy dogs calendar!
| MACH Jeter (Justin x Sasha) | MACH 2 Justin and Elise Collage by Ken Gee |
| --- | --- |
| | |
| Jeter and Sandy Chiavalli win Highest Scoring Dog in Novice at the 2008 ASSA National. | Our Norwegian daughter, Elise, brought Justin out of retirement and showed him during her year with us. What an amazing team! |

Who Says You Can't Do It All?